exhibit:
*Special viewing of all shows: Saturday 24th April, 3pm - 4pm*
artist: richard bolam
title: hyperscape 2
venue: workstation foyer
dates: 19apr - 08may
times: 8.30am - 5.30pm Monday to Friday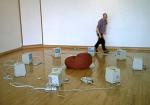 HyperScape 2 is an installation artwork made with obsolete Macintosh computers to create an immersive generative soundscape.
HyperScape 2 is part of an ongoing body of work that explores the relationship between order and chaos and human perception. The installation uses available technology and relies on its inherent limitations.
HyperScape 1 was shown in Sheffield, UK and Malmo, Sweden in 2003.
~~~~~~~~~~~~~~~~~~~~
artist: RTI
title: lowtech videowall
venue: YASS public artspace
dates: 19apr - 30apr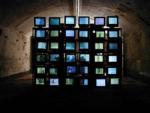 Never shown in Sheffield before, the lowtech videowall by RTI has travelled! Shown abroad more times than in England, this piece is a huge monument to redundant technology - 36 PCs in all. ~~~~~~~~~~~~~~~~~~~~
artist: gatescherrywolmark
title: intersections
venue: access space
dates: 19apr - 12may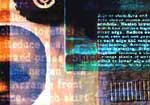 2 artists and one writer make up this all female syndicate. This is a series of proofs, with really striking images - a must see.